The RMC Wall of Honour Committee is pleased to announce the 2022 Honourees:
2759 Hon. Lieutenant-Colonel Sir Jean-Charles (Charly) Forbes, RMWO, LH, CD, MID, B. Sc. Mil.
Jean-Charles Forbes entered RMC in September 1940 from Matane, Québec as a member of the Last (pre) War Class.  Forbes excelled at sports, however, he struggled with the all-English academic program at RMC. He left RMC in 1941, attended officer training in Brockville, Ontario, and was commissioned as a 2nd Lieut. in Le Régiment de Maisonneuve, of the 5th Infantry Brigade, 2nd Canadian Infantry Division.
Part of the Normandy invasion in 1944, Lieutenant Forbes was seen as a capable and courageous infantry platoon leader. Forbes distinguished himself, in November 1944, in the Battle of the Walcheren Causeway, the last operation to clear the Scheldt Estuary.  A month later, unknown to most of his peers Forbes was knighted by Her Majesty Queen Wilhelmine of Holland as a Knight of the Military Order of William (RMWO) (the Dutch equivalent to a Victoria Cross) in recognition of his courage and leadership in the Schelt.
Forbes is well recognized in the French-Canadian military community. After the Second World War, he played an active role in the Royal Canadian Legion in Quebec, where he presided over the creation of La filiale Victor Côté (Matane No. 130) (LASNIER, Georges). The Quebec City branch established in 1994, in recognition of his many contributions, bears his name, La filiale Lt. Col. J. Charles Forbes RMWO (Québec No. 265).
Forbes returned to military service in 1948, as an officer in the Royal 22e Régiment. He mobilized to Korea in 1951 with the 2nd Battalion and was again recognized as an exceptionally capable combat leader. During the Battle of Hill 355 in November 1951 he and his company played a key role in holding what became part of the demarcation line, as the Regiment successfully defended against heavy enemy shelling and repeated waves of attacking Chinese soldiers. Captain Forbes was "Mentioned in Dispatches" (MID).  Forbes stayed with the "Van Doos" and retired from the Canadian Army in 1965 with the rank of Major.
A talented artist, after his retirement, he produced over 1000 paintings of both battlefields and Quebec scenery. He also published two books about his military experiences.
In 1985, Charly Forbes was named Honorary Lieutenant-Colonel of his first regiment, Le Régiment de Maisonneuve, and in 2005, he was named Honorary Colonel of the 78th Fraser Highlanders and his RMWO decoration was placed in the Quebec City Garrison Club's Victoria Cross Salon, alongside the nine Victoria Crosses won by Canadian soldiers from Québec. In 2006 the Government of Quebec awarded him the Médaille de l'Assemblée Nationale du Québec (Medal of the National Assembly of Quebec) and the Légion d'honneur (LH) by the Government of France, in recognition of his service in the Second World War.  Sir Jean Charles Forbes died on May 19, 2010, at the age of 89.
Charly Forbes was an exemplary combat leader in two wars. His gallantry was recognized with the highest valour awards.  The Legion and the French-Canadian community have paid tribute to his service.  His legacy includes his skill as an artist and author.
---
2897 Major-General Herbert Chelsey Pitts, MC, CD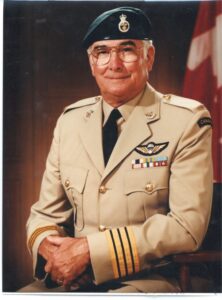 General Pitts was an outstanding Army Officer in war and peace; mentoring the next generation through his personal example. In the over 30 years of civilian life after his retirement from the Army he was a tireless volunteer in many of public service activities including honorary roles with the four Regiments in which he had served. He died in 2018.
Herb Pitts entered Royal Roads Military College in 1948. He was commissioned into the Lord Strathcona's Horse (Royal Canadians) in 1951, and immediately sent to the Korea where he was awarded the Military Cross for heroic combat leadership. Back in Canada, swift promotion to command and staff appointments included command of the First Battalion in Victoria from 1967 to 69, and the command, from 1971 to 73, of the Canadian Airborne Regiment (CAR) in Edmonton, with his career culminating in his promotion to Major General in 1976. He retired in 1978.
In retirement Herb Pitts dedicated his life to public service filling senior leadership positions in national, provincial and community organizations. Over 30 years he focused his exemplary leadership across four themes: (1) develop Canadian Youth, (2) commemorate Canadian heritage; (3) support Canadian military and veterans' organizations; and (4) serve his community.
Develop Canadian youth. (1) Life Governor of the Dominion of Canada Rifle Association, he encouraged the training and support of Canada's finest young marksmen. (2) Big Brothers and Sisters of Ontario, providing young people with high quality mentors(3) Army Cadet League of Ontario planting character development seeds of honesty, loyalty and integrity (4) Scouts Canada, he served as National President, National Commissioner, and International Commissioner. (5) Raising funds on behalf of Army Regiments to provide bursaries to children to assist them in their post-secondary education.
Commemorating Canadian heritage. He led formation of the Korean Veterans Association of Canada and the campaign to construct the 200-foot-long granite Wall of Remembrance in Brampton, ON.) In 2010, as Honorary National President of the 150th Anniversary Queen's Own Rifles of Canada Organizing Committee, he led the planning of national celebrations in Victoria, Calgary and Toronto.
Supporting military heritage.  He served as Colonel Commandant of the Infantry Corps; Colonel of the Regiment of the PPCLI, QOR of C and CAR; Patron of The Canadian Parachute Battalion Association, and The Canadian Airborne Forces Association; and is a Distinguished Member of the Ex-Cadet Club of RMC (RMC Alumni Association).
Canadian veterans service. As Honorary President of the British Columbia and Yukon Command of the Royal Canadian Legion he diligently executed its mission; which is to serve veterans and their dependents, promote Remembrance, and act in the service of Canada.
Served his community. In his (much) later years, his volunteering shifted to Veterans' and Senior's issues. (1) He served on the Board of the Tillicum Veterans Care Society, responsible for the Lodge at Broadmead in Victoria. 2) He was responsible for all fundraising to support his church programs.
His legacy includes gallantry in war, and public service in peace without fanfare or self-aggrandizement. His 60 years of contributions in and out of the Army are representative of the highest standards of public service in Canada.